About Vulcan Industries
For many metal stamping companies and suppliers, quality is just a word. In today's manufacturing industry where "excuses" are prevalent, quality often translates into increased cost for the customer.
At Vulcan Industries, we have redefined quality by building it into the company at the ground level. Customers rely on our ability to deliver on time, all the time, even when changing requirements occur.
Over 70 Years of Commitment to Quality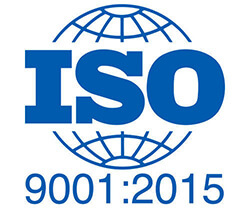 Since 1947, we have built our reputation on manufacturing expertise, quality and customer service.
The foundation of our company culture is based on the idea that personal responsibility and accountability are critical to meeting and exceeding customer expectations. Much of our highly skilled, dedicated staff has been with us 15+ years and each employee feels they are accountable for how the company performs.
That's why customers have come to expect our 99.9% on-time delivery rate as reported by our customers and 99.59% Advanced Shipping Notice accuracy.
Key benefits of this quality control system include:
• ISO 9001:2015 accreditation
• Meeting and exceeding Customer expectations
• World-class PPM rate
• Regulatory and environmental compliance
• Continual improvement
• Sustainability processes
• Strong sense of urgency
We continually refine our processes to reduce costs and increase throughput. By leveraging this top quality management system, we quickly respond to changing requirements from customers.
Innovation and Ingenuity
Working exclusively with original equipment manufacturers, we look forward to the challenge of successfully manufacturing products that other companies would not consider. We identify ways to cut costs and prevent mistakes early on in the stages of product development. All tooling, including high precision progressive dies, are designed and built in-house. In addition, we offer our customers complete design, engineering, and technical support for the lifetime of their parts.
Are Metal Stamping Companies Falling Short of Your Expectations?
If you're tired of "excuses", count on Vulcan Industries for World-Class Service, timeliness and exceptional quality, at every level. Whether you need assistance with
tube forming
, 
metal stamping
,
welding
or 
metal assemblies
, we will assemble, pack and ship your finished product, while reducing your overall development and manufacturing costs. We will match or exceed ANY competitor on quality, lead time, flexibility, cost/price, customer service and innovation.
Competition is fierce – contact us today to discover how our time-tested, proven, quality-driven process can increase your speed to market.