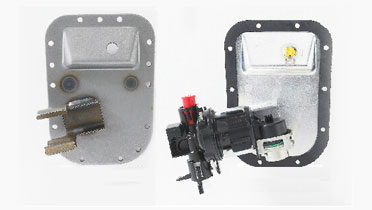 The highly skilled team at Vulcan Industries Corporation produces specialized assemblies for a variety of applications. The following case study demonstrates how we helped the world's largest manufacturer of heavyweight motorcycles develop two products for use on new models.
• Industry: Motorcycle
• Processes: Stamping, machining, welding, plating, and assembly
• Company Background: World's largest manufacturer of heavyweight motorcycles
• Challenge: The assembly needs different manufacturing processes with some requiring development for validation
• Assessment: The assembly is a great fit for the competencies offered by Vulcan. Developing processes to remove potential cost will help secure the business.
The Vulcan Solution – New Part Design and Manufacturing Process, Prototype Testing
To produce the new design, the Vulcan engineering team had to develop a process to join two dissimilar steel alloys. Although welding appeared to be our best option, spot welding was considered too risky due to strength requirements as one of the pieces was made from a high carbon spring steel. The development phase included several steel types, part configurations, and welding processes.
Here are the highlights of how the new design was developed:
• Prototype samples were produced and tested at our customer's laboratory to assess strength.
• Subsequent changes were made to the part design and manufacturing processes to enhance and improve performance.
• In addition to welding spring steel, a spot welding process was developed to simplify the assembly of a tubular fitting into a stamped component.
• MIG welding was replaced by a specially-designed fitting that allowed the product to be assembled using a less expensive spot welding operation.
• We produced an electrical terminal and fuel tank gasket as the welded assembly is zinc-plated, and several additional parts are assembled, including a specialty valve.
• The assembly was pressure tested and packed into returnable dunnage for shipment directly to the customer's assembly line.
The Final Result – Design Changes Enhanced the Product Performance
The experienced Vulcan engineering team assisted our customer in developing two products for use on new model motorcycles. Our focus was to incorporate a safety enhancement while reducing the cost of this new assembly when compared to the existing design. Manufacturing process development produced design changes that enhanced product performance and achieved our customer's objectives.
At Vulcan Industries, we are experts at cost-effective process-driven manufacturing solutions, and superior customer service. Contact us today to find out how we can help you with motorcycle manufacturing.