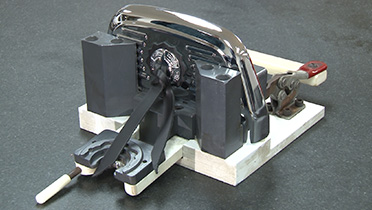 At Vulcan Industries Corporation, we are engaged in continuous innovation to enhance our manufacturing and assembly capabilities. This case study demonstrates how we re-engineered one of our assembly fixtures to reduce operator fatigue and provide our clients in the motorcycle industry with faster turnaround and enhanced quality.
Project Overview
• Industry: Motorcycle
• Processes: Final assembly on this footboard cover requires a piece of die-cut leather to be threaded and tied in place
• Company Background: Vulcan internal efficiency improvement
• Challenge: Eliminate operator fatigue to improve efficiencies
• Assessment: Operator wrist fatigue and frustration resulted in scheduling production runs to a maximum of 3 hours. The current process also caused around 1% scrap due to operators tearing the leather.
The Vulcan Solution – Assembly Fixture Redesign and Build
We gathered a team to review the current process. A variety of manufacturing efficiency problems were identified in the final assembly; the main one being that the operator was trying to hold too many parts during the assembly process. A total assembly fixture redesign was discussed, created, reviewed, and built at Vulcan. The new fixture included clamps to hold the footboard cover in place while threading the leather piece through it. The cover sub-assembly could also be flipped up to provide a more natural position to tie the leather in place.
The Final Result – 85% Increase in Assembly Efficiency
The new fixture enabled our operator to concentrate on assembly of the parts rather than fighting with the process. Minimizing operator fatigue allowed for a full shift of production with an overall assembly efficiency increase of 85%.
At Vulcan Industries, we work closely with our clients to provide design-build solutions that will improve product performance and quality. Our solid commitment to reducing your manufacturing/assembly costs and providing superior customer service helps ensure you are fully satisfied. Contact us today to find out how we can help you with motorcycle solutions.