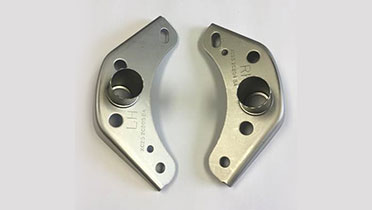 Using Vulcan Industries' years of expertise, we can customize assemblies to meet the unique requirements of our customers. One customer required a precision assembly to encase a critical sensor to monitor wheel movement.
Project Overview
The Vulcan team can produce high-volume automotive grade assemblies. Look at this case study to see how we accomplished this for one of our clients.
• Industry: Automotive
• Processes: Stamping and forming a close-tolerance stainless steel bracket, then press-fitting a stainless steel cup to produce a brazed assembly.
• Company Background: Our customer is a prominent OEM of electrical sensors for a variety of applications.
• Challenge: The customer needed a cost-effective stamping and assembly tooling to manufacture a statistically capable assembly.
• Assessment: After reviewing the component's requirements, it was determined that the design of the stamping included a curved form on one side of the part that could affect the strip location and critical dimensions in our progressive stamping die. To control the material from pulling when the article was stretched, a two-cavity die to control center with opposing forming forces was utilized.
The Vulcan Solution: Progressive Stamping Die Design, Controlled Material Pulling, and Specialized Packaging
Meetings were conducted with our customer's Purchasing and Engineering teams to review the application and our plans for producing the assembly. Our review of the component requirements defined several critical-to-quality features for creating the parts and gauging the required SPC dimensions, including:
• The progressive stamping die design needed to consistently locate the part using the same datum points for subsequent operations.
• The assembly fixture designed had to use the same locators to assure consistency throughout the process.
• Parts needed be assembled just before the furnace brazing operation to prevent any disruption due to material handling.
Because of the close assembly tolerances, process dimensions were developed that included SPC monitoring of the stampings, the press-fit cup, the assembly before furnace brazing, and the final assembly to assure compliance. Special packaging was used to transport stampings before construction and for shipment of the final assembly to the customer.
The Final Result – A New Design Achieved Performance Requirements
The newly developed process produced a high-quality product that met the customer's design requirements and desired completion date.
At Vulcan Industries, we are experts at delivering close-tolerance assemblies and providing superior customer service. That is why Vulcan can be your best cost assembly solution provider.