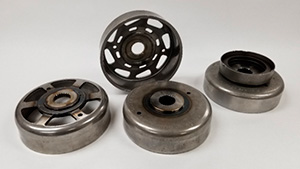 At Vulcan Industries Corporation, we employ decades of manufacturing experience to streamline your production process. The following case study demonstrates how we used our engineering expertise to help the world's largest manufacturer of heavyweight motorcycles improve product quality while reducing assembly costs.
• Industry: Motorcycle
• Processes: Stamping, machining, broaching, welding, and assembly
• Company Background: The world's largest manufacturer of heavyweight motorcycles
• Challenge: Review alternative designs, estimate costs, and produce prototypes as required
• Assessment: A variety of different materials, fastener variations, weld processes, and assembly methods were discussed, and in many cases prototypes produced and tested
The Vulcan Solution – New Product Design, Weld Process, and Tooling
Our customer was keen to reduce current assembly costs (at Vulcan) as well as improve product performance. The existing bolted assembly cost and strength was compared to several bolted joint configurations and welded joints using various welding processes. The weldability of steel alloys, different welding processes, and a potential stress-relieving process offered a wide variety of options. Product testing was conducted on several designs highlighting the superior strength of a welded joint.
The customer decided on a specific welded product. After the design was finalized, production tooling was designed, built, and qualified. The new weld process required definition for cleanliness and force to press-fit components at two specialized suppliers. To complete the assembly, more tooling was developed to locate and deform a component that retains a stack of disc springs into the final product.
The Final Result – Cost-Efficiency and Enhanced Product Performance
The new assembly designed by the experienced Vulcan team provided the intended cost savings as well as assembly efficiency and enhanced performance. Now, the complete assembly, including a stack of disc springs is directly assembled on engines.
At Vulcan Industries, we are experts at diagnosing manufacturing problems, and designing the right solutions to improve quality and cost-efficiency. Our superior customer service ensures quick turnaround, optimized quality, and your complete satisfaction. Contact us today to find out how we can help you with motorcycle parts manufacturing solutions.