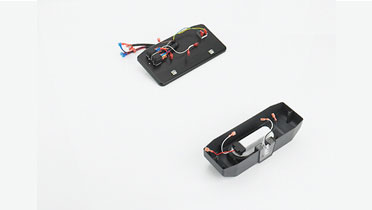 The team at Vulcan Industries Corporation has years of experience manufacturing and assembling quality products for a wide range of applications. The following case demonstrates our ability to assist manufacturers with design improvements for enhanced quality and performance.
• Industry: Scooter, power chair lifts
• Processes: Metal stampings, powder coated finish, plastic housing and assembly, and testing of electrical components controlled by a Kanban system
• Company Background: Manufacturer of independent living aids
• Challenge: Offer manufacturing-based design assistance to develop a superior product
• Assessment: A review of the current assembly uncovered a multitude of quality issues due to the product not being designed to meet the latest lighting requirements
The Vulcan Solution – New Product Design, Testing and Assembly, Waste Reduction Strategies
When a wheelchair lift is located on the back of a vehicle, it blocks the license plate. As a result, the plate is relocated above the wheelchair lift. New laws for third brake lights prompted a lighting review of an existing wheelchair lift product. An initial redesign by the customer added a brake light to the license plate bracket. However, numerous quality issues provided Vulcan with an opportunity to partner with the customer on the development of a new design.
A review of the quality problems with the existing design helped us determine how the new product should perform. Meetings with the customer offered additional insight on new product features they wanted to consider. Updated requirements included a new plastic housing and the use of solid state components in the electrical circuit.
The Vulcan engineering team presented three concepts for the customer to review. Design and cost were important considerations. Upon design selection, additions were made to the original specifications, after which cost estimates were finalized.
The Vulcan team was overjoyed to receive the project. We built tooling to produce the main components and constructed assembly fixtures to assist in the assembly and test operations. We shipped the product to the customer in conjunction with existing "milk run" used for other parts. Returnable containers eliminated packaging waste. We also established a Kanban inventory to ensure a consistent flow of product to the customer's production line.
The Final Result – Improved Product Quality, Cost-Effective Manufacturing Process
The customer was extremely appreciative of Vulcan's cost-effective solution that incorporated quality standards into the product and manufacturing process.
At Vulcan Industries, we are experts at reducing costs and providing superior customer service. Contact us today to find out how we can help you with scooter and power chair lift solutions.