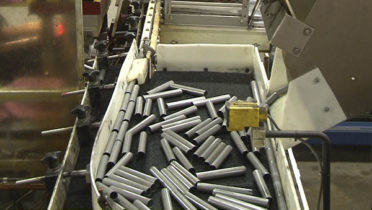 At Vulcan Industries Corporation, we offer innovative manufacturing solutions to meet your unique needs. The following case study demonstrates how we developed a manufacturing cell capable of forming multiple sizes of steel or aluminum tubes to increase tube feed cell production capacity in a cost-efficient manner.
Project Overview
• Industry: Motorcycle
• Processes: Manually loading pieces of tubing into a magazine that allowed our punch press to continuously cycle and form the tubes
• Company Background: Vulcan internal cost improvement
• Challenge: To automate the tube loading process
• Assessment: Automation was considered the best solution to improve our efficiency and eliminate the potential for carpal tunnel injuries from repetitive motion
The Vulcan Solution – Integration of Processes to Eliminate Operator Fatigue and Increase Output
The need to increase production volumes while remaining cost-competitive, challenged us to create a manufacturing cell that is capable of forming multiple sizes of steel or aluminum tubes. This required us to integrate a tube cutoff machine and forming press. Automating the feeding of tubes to the forming press would increase the machine uptime by eliminating operator fatigue, and allow the cell to be tended by one person.
Here are the highlights of the new, automated cell:
• After considering a variety of tube feed approaches, we decided to utilize a vibratory feed table system that allowed for simple adjustments between tube sizes.
• Tubes from the cutoff machine were conveyed to a hopper that provided a buffer of parts before the vibratory feed table to assure an adequate supply of tubes for continuous operation.
• PLC controls for the feed system are independent of the cutoff and the forming press, with only a magazine sensor in the forming die that controls the automation
The Final Result – High Quality Tubes, Enhanced Forming Press Capacity, Elimination of Repetitive Motion Injuries
The new Vulcan system allows us to provide competitive pricing to our motorcycle industry customers while maintain high product quality and increasing forming press capacity by 20%. We were also able to eliminate the potential for repetitive motion injuries like carpal tunnel among workers.
At Vulcan Industries, we are experts at reducing manufacturing inefficiencies and costs. Contact us today to find out how we can help you with motorcycle manufacturing solutions.