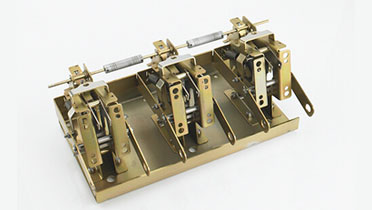 The team at Vulcan Industries offers expertise in manufacturing and assembling specialized products for a wide range of industries. Here is a case study demonstrating how we helped a global leader in the power distribution and circuit protection vertical develop two new cost-effective EMS mechanisms.
• Industry: Electrical power management
• Processes: Stamping, machining, plating, assembly and tooling
• Company Background: Global leader in power distribution and circuit protection for utility, commercial and industrial applications
• Challenge: Existing mechanism designs are submersed in oil, so corrosion of the steel components used in the assembly is not an issue. As this new product will be exposed to the atmosphere, wear and corrosion resistance are critical to lasting performance.
• Assessment: Evaluate design concepts for performance and cost, and produce prototypes to validate the results
The Vulcan Solution: Testing, Design, Prototypes, and Successful Validation
At the start of the project, baseline information for the current high-performing product was not available which made identification of key product characteristics unknown. The Vulcan team took the following steps to develop a successful solution:
• Product cycle testing was conducted to identify any areas for concern.
• A variety of material grades and plating finishes were considered, and costs estimated.
• Individual mechanisms were prototyped, and the performance evaluated.
• Several iterations were constructed to maximize the performance which resulted in a final design.
• Individual mechanisms were grouped together and tested as assembly and adjustment issues were uncovered.
• Meetings were conducted at the customer site to review the adjustment issues, and present options.
• Another round of prototypes proved the feasibility of a new side plate design that positions multiple assemblies in the same plane relative to the adjustments.
• New tooling was built at Vulcan Industries to produce the new side plates, testing was conducted, and the validation was successful.
The Final Result – Best Quality at the Best Cost
When Vulcan Industries has the opportunity to partner with our customer at the start of a new program, the benefits include design for manufacturing and cost estimating, thus allowing our client to realize the best quality product at the best cost.
Vulcan Industries offers expertise in cost reduction plus exceptional customer service. Contact us today to find out how we can help you develop high-quality, low-cost electrical power management solutions.