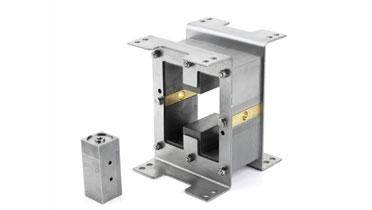 At Vulcan Industries, we are fully-equipped to produce high-quality custom assemblies for a range of manufacturing companies. The following case study demonstrates how we helped a leading power distribution and circuit protection manufacturer resolve their existing quality issues.
• Industry: Electrical power management
• Processes: Stamping several components, machining, assembly and zinc plating
• Company Background: Global leader in power distribution and circuit protection for utility, commercial and industrial applications
• Challenge: Partnering with manufacturing and engineering teams to evaluate the existing product. Numerous quality problems were presented as critical issues that needed to be addressed.
• Assessment: With input on a variety of quality issues, we were able to propose alternate methods to manufacture this assembly. Multiple stamping laminations were required, and correct alignment was critical to the assembly. Automating portions of the assembly and utilizing a fixture to assure alignment were considered the best long-term manufacturing solution.
The Vulcan Solution – Process Design, Automated Assembly, Quality, and Cost Control
With extensive experience in the development of computer-controlled tooling, we proposed a method to not only stamp the required number of laminations, but also count and assemble them automatically in the stamping die. The process design was critical to the success of this program.
Here is how we made it work:
• While the press is running, a conveyor is utilized to deliver two separate stacks of laminations from the die required to build one assembly to the press operator.
• A pneumatically-controlled assembly was designed and developed to allow the press operator to position and clamp a variety of components in their respective positions.
• The assembly was completed by assembling many fasteners and tightening them to the proper torque specification while in the fixture, thus assuring correct alignment.
• The final assembly was then zinc-plated to complete the process.
• The assembly fixture investment eliminated prior machining operations that presented quality problems.
• Utilizing the press operator to complete the assembly while the press is stamping lamination stacks for the next assembly meant that no cost was added for the assembly operation.
The Final Result – A High-Quality, Robust Manufacturing Process, Reduced Inventory
Quality problems with their current supplier prompted the customer to consult with Vulcan Industries. The new, robust manufacturing process we proposed addressed all prior assembly-related quality concerns. With quality no longer an issue, inventories were also reduced significantly. Our customer was extremely pleased with the results and now partners with Vulcan for ongoing manufacturing requirements.
At Vulcan Industries, we are experts at addressing manufacturing challenges and reducing assembly costs. Contact us today to find out how we can help you develop cost-effective electrical power management solutions.