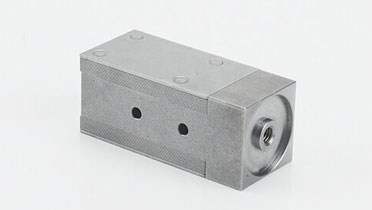 Vulcan Industries Corporation is a preferred provider of custom metal stamping parts for companies in many major industries. The following case study demonstrates how we designed a cost-effective, alternative manufacturing process to help our customer (Eaton's Cooper Power Systems) produce high-quality actuator plungers with standard steel.
• Industry: Electrical power management
• Processes: Stampings, machining, riveting the assembled product and zinc-plating
• Company Background: Global leader in power distribution and circuit protection for utility, commercial and industrial applications
• Challenge: Providing a manufacturing solution for an existing product with major material supply concerns. A product redesign was required that would perform as well or better than the existing one.
• Assessment: Engineering calculations indicated that by utilizing a laminated design, magnetic force characteristics like specialty steel were anticipated.
The Vulcan Solution – Defining a Lamination Retention Method for Standard Steel, Prototyping, Testing, Validation, and Cost-Effective Assembly
A Due to a supply shortage in the worldwide steel markets, our customer was no longer able to purchase the specialty steel they required to produce actuator plungers. We suggested an alternative process. Defining a lamination retention method that allowed for proper assembly tolerances, adequate product performance forces, the required product life, and overall cost-effectiveness, all required careful consideration and development testing.
Here's how the experienced team at Vulcan Industries solved the problem:
• The proposed design concept would utilize commercially-available standard steel along with multiple laminations secured with a set of four rivets.
• Stamping dies and assembly tools were designed and prototype tooling was built to provide initial test samples to our customer.
• Manufacturing tolerances using multiple components instead of a machined assembly were evaluated and tested to ensure the new assembly would be capable in a high-volume production environment.
• Favorable test results led to the design-build of production tooling, pre-production sampling, final product validation, and production purchase orders.
• The result was a cost-effective product with performance characteristics that exceeded customer expectations.
The Final Result – Efficient Supply Chain, Expanded Product Offering
Our customer was extremely pleased with the performance of the new standard steel actual plungers and our quick turnaround time. Their supply chain was not interrupted due to the lack of specialty steel. The new design is now being produced in two sizes.
At Vulcan Industries, our customers enjoy innovative solutions and high-quality output that is always delivered on time. Contact us today to find out how we can help improve your electrical power management solutions.